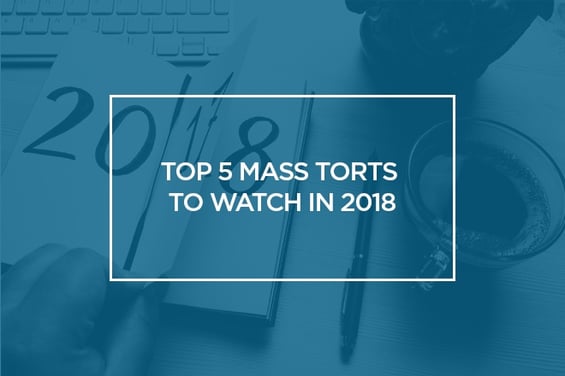 Written by: Erin Delaney, Esq. | Senior Associate Counsel & Elizabeth DiNardo, Esq. | Associate Counsel
---
Opioid Litigation
The United States is in the midst of a serious opioid epidemic.[1] It should not be surprising that in 2017, opioid cases were one of the fastest growing litigations in the country. The steady number of opioid cases filed by municipalities is likely to increase in 2018, creating a need to consolidate the cases into a multidistrict litigation ("MDL").
The opioid suits all similarly bring claims of negligence, public nuisance, violations of the federal Racketeer Influence and Corrupt Organizations Act ("RICO"), violations of various state business laws and allegations that the pharmaceutical companies misled patients as to the addictive nature of the drugs in order to generate a greater profit.[2] In the September 2017 motion for transfer to the JPML, plaintiffs argued that an MDL would be appropriate as "all actions involve common questions of law and fact that arise from the defendants' manufacture, distribution and/or sales of dangerously-addictive opioid drugs which, due to defendants' breaches of non-delegable duties, foreseeably caused an epidemic of misuse and crippling addition."[3]
What would make a potential opioid MDL unique is the number of different defendants involved in the suits. Traditionally, MDLs have consisted of one defendant or many defendants involved in a single closed event, as was the case in the Deepwater Horizon oil spill MDL. However, thus far the opioid suits have been filed against wholesale distributors of opioid drugs McKesson Corporation, AmerisourceBergen Corporation, and Cardinal Health Inc., in addition to opioid manufacturers Purdue, Teva/Cephalon, Janssen, Endo, Actavis, and Mallinckrodt, as each company is defined in the plaintiffs' Brief in Support of Plaintiffs' Motion for Transfer of Actions.
As of November 2017, approximately 100 opioid suits have been filed.[4]
Talc
Another mass tort sure to make waves in 2018 is talc litigation. In these suits, plaintiffs claim that Johnson & Johnson's ("J&J") talc products caused users to develop cancer. The talc litigation is divided into state court cases in California and Missouri, as well a collection of 274 New Jersey state cases that were consolidated into a multicounty litigation.[5] In addition, all federal talc cases have been consolidated into a multidistrict litigation in New Jersey, where talc product manufacturer Johnson & Johnson is headquartered. The MDL is presided over by U.S. District Judge Freda Wolfson.[6]
Talc has proven itself to be a very interesting mass tort thus far, resulting in some staggering plaintiff verdicts. California saw a jaw dropping $417 million plaintiff victory in the state's first talc case to come to trial in August 2017.[7] However, Los Angeles Superior Court Judge Maren E. Nelson overturned the verdict on October 20, 2017, just two months after plaintiff, Eva Echeverria, died.[8] Judge Nelson granted Johnson & Johnson's motion for a new trial on the grounds of "(1) insufficiency of evidence as to causation…(2) error in law occurring at trial…(3) misconduct of the jury and (4) excessive compensatory damages as to Johnson & Johnson and excessive punitive damages."[9] The second California state court talc trial began in October 2017.[10] Plaintiff Tina Herford claims that inhaling talcum powder products were the cause of her mesothelioma.[11]
Missouri state cases have been in litigation for the past two years resulting in four plaintiff victories and one defense verdict. Recently, however, the first Missouri state talc case, which returned a $72 million verdict for the family of deceased plaintiff and Alabama native, Jacqueline Fox, was overturned based on the Missouri court lacking personal jurisdiction over the plaintiff's claim.[12] The Court's ruling in Fox is very critical to the future of Missouri talc plaintiffs. Currently only two out of the 65 Missouri plaintiffs are Missouri residents.[13] J&J based its argument in the Fox appeal on the recent U.S. Supreme Court ruling in Bristol-Myers Squibb, which held that a non-resident plaintiff must establish an independent basis for specific personal jurisdiction over the defendant in the state.[14] The plaintiff in Fox appealed the decision asking the court to remand the case so the trial court could supplement the pre-trial record to establish jurisdiction under a new standard. However, the court declined to remand the case.[15]
In June 2017, all federal Ethicon and Johnson & Johnson Physiomesh lawsuits were consolidated into a multidistrict litigation in Northern Georgia under U.S. District Judge Richard W. Story.[16] Plaintiffs in the suits all similarly allege that hernia mesh was defectively designed and manufactured. Specifically, plaintiffs claim "that the multi-layer coating in Physiomesh prevented adequate incorporation of the mesh and caused or contributed to a variety of serious complications, and that the polypropylene mesh portion of the Physiomesh was insufficient to withstand normal abdominal forces."[17]
The Ethicon Physiomesh MDL is sure to be active in 2018 with status conferences scheduled throughout the fall and early winter 2017.[18]
Risperdal
Risperdal has been a headline-making mass tort since bellwether trials began in 2015, and all signs point to this pattern continuing well into 2018 and beyond. Risperdal is the brand name for risperidone, an atypical or "second generation" antipsychotic drug prescribed to treat schizophrenia and other manifestations of psychotic disorders. Defendants named in the consolidated litigation are the designers, developers, manufacturers, marketers, advertisers, distributors and/or sellers of the drug, including Johnson & Johnson ("J&J") and its subsidiary, Janssen Pharmaceutical ("Janssen," and together, "Defendants").[19] Risperdal has been linked to several serious side effects, most notably gynecomastia, which is the development of male breasts. The drug was found to increase a hormone called prolactin. Prolactin is a peptide hormone produced by the anterior pituitary gland that is primarily associated with lactation and plays a vital role in breast development.[20]
A large number of new Risperdal cases were filed in the Philadelphia Complex Litigation Center, the main hub for these cases. Judge Arnold L. New, who presides over the Philadelphia Risperdal cases, announced that between January and June 3,617 new cases were added to the docket.[21] [22] Thus far, seven bellwether cases have gone to trial with four resulting in verdicts for the plaintiff ($2.5M, $1.75M, $500K and $70M) and three defense victories.[23] [24] J&J has also settled outside of court for undisclosed amounts with two plaintiffs.[25] [26]
Invokana
The Invokana multidistrict litigation is also worth watching in 2018. Invokana is a popular drug used to treat Type-2 diabetes and is part of a class of drugs called sodium-glucose cotransporter-2 ("SGLT2") inhibitors.[27] SGLT2 drugs cause the kidneys to remove sugar from the body through the urine, lowering the patient's blood sugar. [28] Plaintiffs in Invokana suits claim that the drug causes diabetic ketoacidosis and kidney damage. The suits allege that manufacturer Janssen Pharmaceuticals failed to adequately test the medication and also failed to adequately warn patients of the dangerous risks associated with its use.[29]
The JPML consolidated all federal Invokana cases into a multidistrict litigation in New Jersey under U.S. District Judge Brian R. Martinotti in December 2016.[30] In May 2017, the FDA confirmed that patients taking Invokana and sister drug, Invokamet, are at an increased risk of needing leg or foot amputations.[31] Invokana and Invokamet now carry "black box warnings."[32] According to a case management order filed in May 2017, bellwether trials are likely to start between September and December 2018.[33]
---
[1] http://www.cnn.com/2017/09/18/health/opioid-crisis-fast-facts/index.html
[2] Brief in Support of Plaintiffs' Motion For Transfer of Actions, In Re: National Prescription Opiate Litigation
[3] Brief in Support of Plaintiffs' Motion For Transfer of Actions, In Re: National Prescription Opiate Litigation
[4] Id.
[5] https://www.judiciary.state.nj.us/attorneys/assets/mcl/talc/caselist.pdf
[6] http://www.njd.uscourts.gov/johnson-johnson-talcum-powder-litigation
[7] Charmaine Lloyd, et al v. Johnson & Johnson et al., Case No. BC628228, JCCP No. 4872, Oct. 20, 2017
[8] Id.
[9] Id.
[10] http://blog.cvn.com/closely-watched-johnson-johnson-talc-powder-mesothelioma-trial-resumes-after-mistrial
[11] Id.
[12] Estate of Jacqueline Fox v. Johnson & Johnson, et al., No. ED104580, Mo. Ct. App. E.D. Oct 17, 2017
[13] Id.
[14] Bristol-Myers Squibb Co. v. Superior Court of California, San Francisco County, et al. No. 16-466, U.S. June 19, 2017
[15] Estate of Jacqueline Fox v. Johnson & Johnson, et al., No. ED104580, Mo. Ct. App. E.D. Oct 17, 2017
[16] In Re: Ethicon Physiomesh Flexible Composite Hernia Mesh Products Liability Litigation MDL No. 2782* Transfer Order refers to the defendants together as Ethicon, as Ethicon is a subsidiary of J&J
[17] Id.
[18] Id.
[19] In Re: Risperdal Litigation, No. 100300296, P.A. Court of Common Pleas, Philadelphia County
[20] Id.
[21] https://www.law.com/sites/almstaff/2017/07/13/phila-risperdal-docket-more-than-doubles-in-first-half-of-2017/
[22] https://www.courts.phila.gov/apps/clc/caselist.asp?search=Risperdal
[23] https://www.law360.com/articles/914246/pa-judge-axes-latest-risperdal-breast-growth-case-mid-trial
[24] https://www.aboutlawsuits.com/risperdal-settlement-2-101455/
[25] Id.
[26] https://www.nationalinjuryhelp.com/dangerous-drugs/janssen-settles-risperdal-cases-philadelphia/
[27] http://www.diabetes.co.uk/diabetes-medication/invokana-canagliflozin.html
[28] Id.
[29] In Re: Invokana (Canagliflozin) Products Liability Litigation, MDL No. 2750, United States Judicial Panel on Multidistrict Litigation Transfer Order
[30] Id.
[31] https://www.fda.gov/Drugs/DrugSafety/ucm557507.htm "Final results from two clinical trials – the CANVAS (Canagliflozin Cardiovascular Assessment Study) and CANVAS-R (A Study of the Effects of Canagliflozin on Renal Endpoints in Adult Participants With Type 2 Diabetes Mellitus) – showed that leg and foot amputations occurred about twice as often in patients treated with canagliflozin compared to patients treated with placebo, which is an inactive treatment. The CANVAS trial showed that over a year's time, the risk of amputation for patients in the trial were equivalent to:
9 out of every 1,000 patients treated with canagliflozin
8 out of every 1,000 patients treated with placebo
The CANVAS-R trial showed that over a year's time, the risk of amputation for patients in the trial were equivalent to:
5 out of every 1,000 patients treated with canagliflozin
2 out of every 1,000 patients treated with placebo"
[32] Id.
[33] In Re: Invokana (Canagliflozin) Products Liability Litigation, MDL No. 2750, Case Management Order No. 10, May 1, 2017